Everyone wants a beautiful bathroom. You might not realize that this is something that you are interested in, but it more than likely is. After all, it's a space in your home, and you want your home to look its best, right? If you are thinking about changing up your bathroom this year, there are a number of design trends that you can think about to add that little something extra to your home. If you're not well versed in decor trends of 2021, then it's a good thing that you have come across this article. Down below, we are going to be taking a look at some of the bathroom trends for this year that you need to know about, so keep reading if you would like to find out more.
Flooring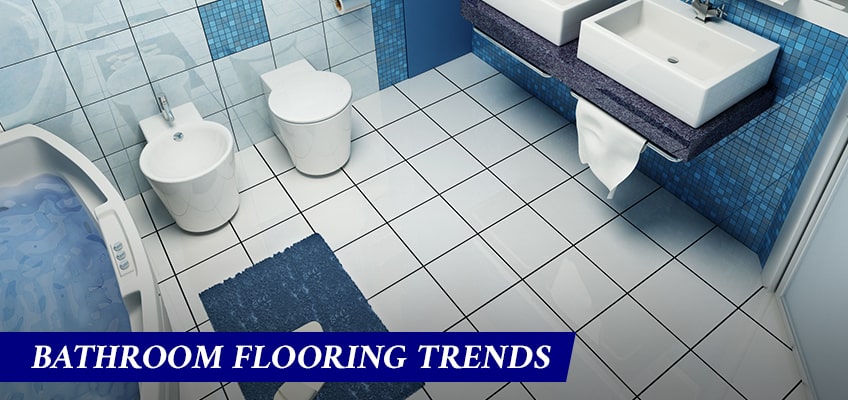 One of the most common types of flooring that is used in bathrooms at the moment is floor tiles. These can come in a range of different shapes, sizes, patterns and designs, meaning that you will be able to get pretty much whatever you want when it comes to this. Some of the most beautiful floors that we have seen have been wood looking floor tiles. They look like slats of wood fitted perfectly on the floor, when in reality, they are made of the very same thing that lines your bath and shower walls.
An alternative to this is vinyl flooring. This is a versatile and cost-effective solution that everyone should consider, especially if you are on a budget. Providing water resistance and fantastic insulation, it's not hard to see why it's so popular in 2021.
Tiles
Using tiles in your bathroom is completely normal, and it's necessary for the bath/shower area. If you're going to be retiling the space, you need to think about how to make it work with the rest of the bathroom. One particular trend that is making its way back is terracotta. This happened with the rise of warming and nurturing colours, so it's really not a surprise that it's one of the main contenders on the market right now.
We bet that you haven't seen hexagon tiles in a while, but they're on their way back. Hexagon tiles with block colours have become particularly popular this year, and it's not looking like there are any plans to slow down in 2022 either.
Colours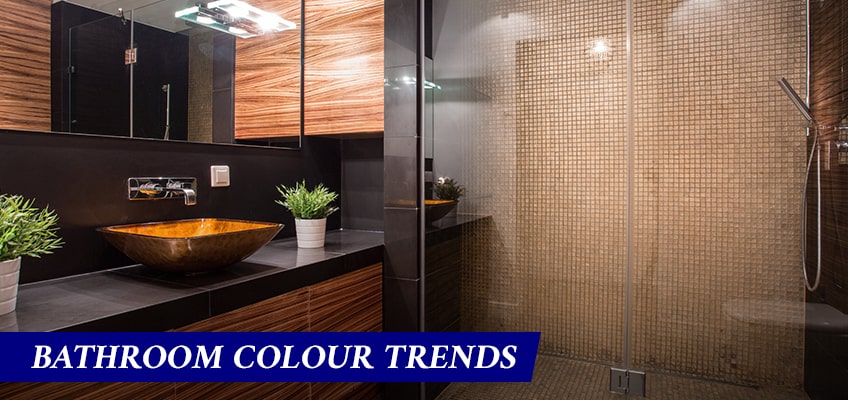 It's all about the blues, greens and neutrals in 2021. Pale blues are some of the most popular colours right now, enhancing the space when the light creeps in. It provides a sea vibe in your bathroom, helping you relax and be calm.
For Bathroom Fitters – Call: 0800 328 4329
Earthy greens and neutral colours are two of the other trends right now, and they are well worth having a look at. You might be wondering who uses green in a bathroom, and the answer is a lot of people. We're not talking about lime green, we're suggesting dark greens that remind you of a forest or something similar.
Lighting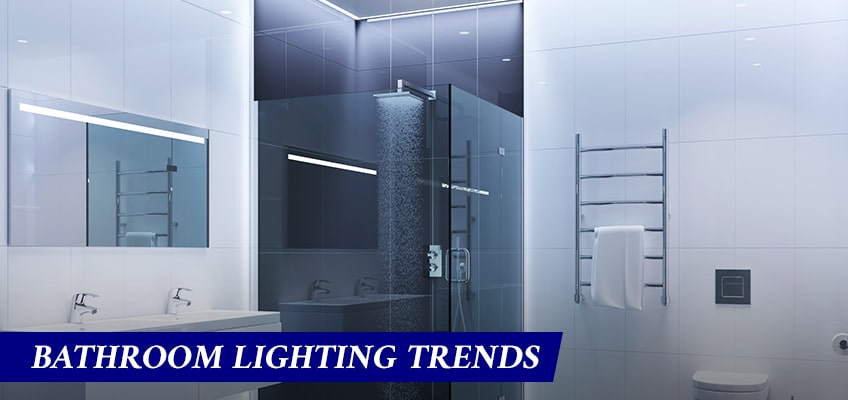 Some of the current bathroom lighting ideas are flash and in your face, while others are more subtle. For example, one of the biggest trends of the year is to use LED lighting around the edges of the walls. Or, you could hang some around your mirror, providing just the right amount of light when the main light is switched off.
Pendants for ambient lighting are a fantastic choice for any bathroom. Pairing this with wall lights for task lighting will really bring something special to your bathroom. Not only do they provide you with options for how much light you want in the room, but they also look beautiful.
Showers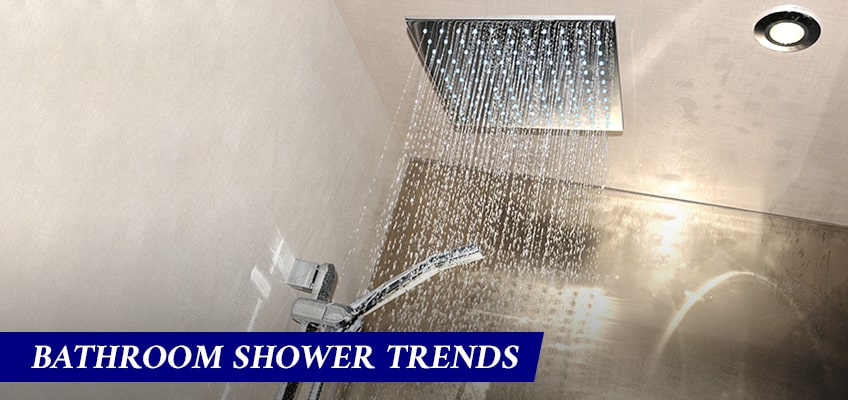 Walk-in showers has been all the rage this year. Instead of having a shower over your tub which used to be the standard, more people are opting to have their shower separate. Couple this with a rainfall showerhead, and you have got yourself the perfect shower! Using some of the tile ideas that we talked about further up, you can really create something beautiful.
Baths
Freestanding tubs as opposed to the ones that are attached to the wall are the new craze. People seem to prefer to have their tub standing on it's own for a number of reasons. The aesthetic is beautiful, and allows for the tub to be placed anywhere in the room, depending on the other style choices.
You can also get different coloured tubs which seem to be on the rise right now. The typical bathtub is white on the inside, but it doesn't have to be. If you want to do something a little different, you can opt for a different colour bath.
Accessories
Adding accessories to the bathroom only enhances it further. In 2021, some of the most common accessory trends were using mirrors and plants to create beautiful space. Going with the bare look, only to add a simple yet elegant mirror brought out the best in many bathrooms. This can be coupled with using the elements to create something truly amazing. Simply add some plants to the bathroom, and make use of the natural light.
Sinks
His and her vanity units are always going to be a winner no matter what year it is. Freestanding sinks placed on a unit of some description will probably be in every persons' dream fantasy if you ask them. Again, you can get a range of different colours when it comes to your sink, though the typical option that people go for is white.
Having said that though, black sinks are in fact on the rise, bringing something entirely new to the bathrooms in 2021.
Luxury Bathroom Ideas
There are plenty of luxury bathroom ideas that you can consider, and they might be even more simple than you imagined. For example, if you have space, you can add a seated area into your bathroom. This is somewhere for you to simply relax while you wait for your bath to run or for your shower to warm up.
Read also: Small Wet Room Ideas
The lighting and tile choices also have a lot to do with how luxurious your bathroom is. Think carefully about these before making a final decision. An example would be that white marble tile works fantastically with pendant ambient lighting.
Small Bathroom Ideas
If your bathroom is on the smaller side, this doesn't mean that it can't still be beautiful. You simply need to make use of the space that you do have, adding the little luxuries where you have space for them. In order to utilise the space fully, you might want to have either a walk in shower, or a tub, or perhaps the both of them combined.
You are also going to want to have a storage unit so that all of your items aren't out everywhere. There's nothing worse than a small space being filled to the brim with clutter.
Family Bathroom Ideas
Having an entire family using a bathroom can be a nightmare if things aren't organised properly. We recommend that you have an area for the kids stuff, and an area for the adults stuff to avoid things getting mixed up. With everything being stuffed into the one bathroom, you need to make sure that everything has its place, and everything is in its place.
Ideally, you also want to have a double sink to ensure that more than one person can get themselves ready at a time. Choose a colour that everyone loves such as a blue of some kind.
Bathroom Storage Ideas
You can have an under the sink vanity if you have a freestanding sink. The sink has to sit on something, so you may as well make use of this and use the space underneath that would otherwise be wasted. You can also look into units that fit between walls as they have been made as a special shape to fit in these kinds of gaps. They provide plenty of storage room, but don't take up that much space as they work with space that would be otherwise unoccupied.
Spa Bathroom Ideas
If you want to turn your regular bathroom into a spa bathroom, the first thing you need to do is upgrade your showerhead and sink taps. You want the freefalling ones where possible, as they provide a calming vibe for your room. Add some candles to your bathroom in order to create the right kind of feeling, and try to pick neutral, calming colours as much as possible. Creams are a fantastic option as they have a calming impact on people.
You should also mix in a little bit of nature with your spa bathroom by adding a couple of plants. Being at one with nature is important to the spa feel, and that's what doing this wil achieve.
Contact Aquatek for help fitting your new bathroom
If you have made your decision and you're ready to start the process to get your bathroom fitted, then contact Aquatek to help. This highly professional team will be there for you whenever you need them, ensuring that you have got everything that you have ever wanted when it comes to your new bathroom.