'Bathroom fixtures, toilet fittings, bath and shower fixtures' – you can see how these words can quickly become confusing bathroom terminologies when you are renovating your bathroom. Out of the many different terms, 'bathroom fittings' sounds simple enough, but what exactly does it mean? This guide seeks to help you understand precisely what bathroom fittings are and give you an understanding of some of the bathroom fittings lingo you may hear during your project.
What Are Bathroom Fittings?
To understand what bathroom fittings are, you must take a look at and understand bathroom fixtures.
Bathroom fixtures are the permanent fixtures that are either plumbed or wired in and can only be detached or moved when some renovations need to occur in your bathroom. It is for this reason that most fixtures have a lifespan of about 25 years.
Bathroom Fixtures
Here is a list of some bathroom fixtures:
Bath
Toilet
Sink
Shower
Taps
Bathroom Fittings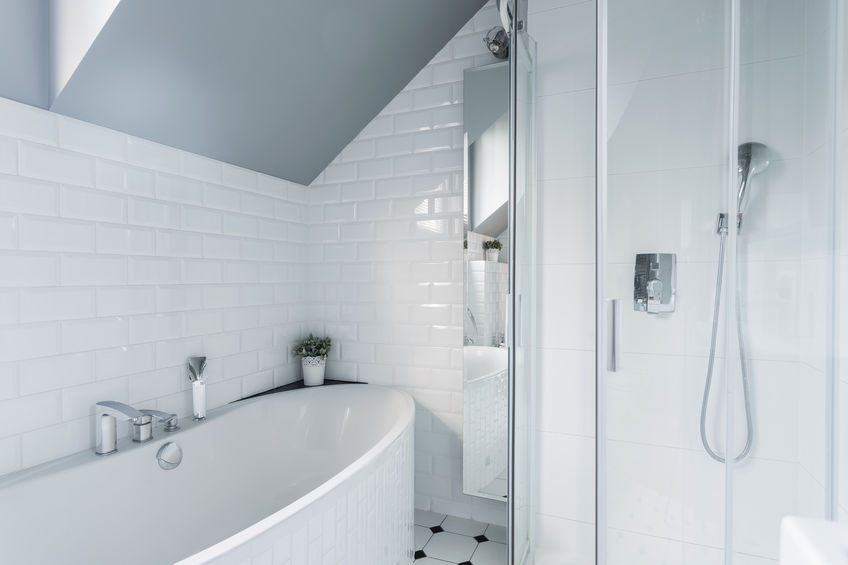 Bathroom fittings, on the other hand, are the small details that are added to achieve your desired bathroom design. So, in a nutshell, these are "fitted onto" the permanent parts – which are the fixtures. Here is a list of some bathroom fittings:
Towel rails
Toilet seats
Shower curtains
Freestanding or wall-mounted furniture; for example, mirrors, cabinets and so on.
Toilet roll holder
Detachable shelves
The main difference between bathroom fixtures and fittings is a legal one. According to the law of property, fixtures are a part of the home. This means that the previous homeowner would sell the house with the fixtures but can remove the fittings.
Shower Fixtures
Shower fixtures are the devices that come together to deliver your shower experience. These systems control your flow of water, the water temperature, and can customise the way water is delivered through an array of spray styles.
The shower's valves and trims allow you to start and stop the water flow, control the flow rate, and water temperature. Showerheads are water delivery mechanisms that shape the water flow as it comes out of the pipe into the shower. The main types of shower fixtures include:
Shower trims
Shower valves
Showerheads, which includes fixed overhead showerheads and hand showers
Shower Curtains
Shower curtains are bathroom fittings that are mainly used to prevent water from getting on your bathroom floor while you shower. They also prevent moisture from leaving the shower area and provide privacy. Although more people opt to use shower screens, many others prefer to use shower curtains to add to their bathrooms' design.
When purchasing shower curtains, not only should you ensure that it blends in with your bathroom's design, but also put into consideration: the shower curtain material, the size and length of the curtain, the style of the curtain, and whether or not you would want one with curtain hoops. Often, the problem lies in choosing a type of shower curtain material.
Shower curtains are usually made from three materials, namely vinyl, polyester, and cotton. The material you choose for your shower curtain affects the design of your bathroom.
Vinyl shower curtains are a popular option. Since it naturally repels water, a build of mould and mildew will not be an issue. These curtains are cheap, easy to clean, and easy to obtain in various colours, therefore making it easy to coordinate with the bathroom decor.
Polyester shower curtains are waterproof, easy to clean, and durable- so they can last for a more extended period. These curtains are usually quite heavy and are suitable for showers that have high water pressure.
Contact us / Call us: 0800 328 4329
Cotton shower curtains are the most expensive material and very durable. Although they are easy to wash, they can only be cleaned once a month, unlike vinyl and polyester. As cotton easily absorbs moisture, you should buy a lining in addition to your cotton shower curtain.
When purchasing a shower curtain, you should keep in mind the weight of the material you will buy. This would help you determine what type of rod to buy and whether you should buy one with hooks. Also, consider buying ones that have anti-moulding and anti-mildew coating to protect your shower curtain.
Bathroom Accessories
Bathroom accessories are the items that add to the overall design of your bathroom. They play an essential role in making your bathroom space more usable and add to your comfort when using the bathroom. There are many bathroom accessories you can add to your bathroom, these include:
Toothbrush holders.
Tumbler holder
Mirror cabinets
Soapdish
Soap basket
Robe hook
Towel ring
Towel rack
Shelves
Toilet paper holder
Toilet brush and holder
When picking bathroom accessories, be sure that the style complements the overall design of your bathroom. Because they are meant for the bathroom, most of these items are made with marine quality material, making them easy to clean.
Cheap Bathroom Fittings
Getting the right bathroom fittings for your bathroom can be budget-friendly and easy to set up to add to your bathroom design- wallpapers are an example. You might think wallpaper in your bathroom is not the right combination, but if you follow the necessary steps when hanging and choosing your wallpaper, it is. When installing the wallpaper, be sure to use an extra-strong adhesive and a layer of clear varnish to protect it. Purchase wallpaper designed for bathrooms and avoid hanging it anywhere that it will be in constant contact with water.
Getting designed and patterned tiles for your bathroom can be quite expensive. Thankfully, there are tile stickers to give your bathroom the style you want to achieve at a lower price. These stickers are waterproof so that you can paste them anywhere you want to.
You can also put your creative skills to the test. There are several DIY bathroom fittings you can create to add style to your bathroom. You can create unique shelves, towel racks, toothbrush holders, and so much more. All these can be done using things around the house, or you might have to pick up a few things from the store- all at an affordable price.
Despite it being one of the smallest rooms, you spend quite a lot of time in the bathroom. This is why, when getting bathroom fittings, you must take time to see that your choices blend in well with the overall design of your bathroom and add a personal feel to that space.