Are you trying to decide between the Hive and Google Nest for your home automation system in 2023? You're certainly not alone – many households are now looking for the best smart home tech, and these two giants of the industry have both been making headlines. With their technological capabilities expanding at a rapid rate, it can be daunting to choose which one is right for you.
But fear not, the experts at Aquatek have put together this guide that will compare Hive vs Google Nest 2023 so that by the end, you'll have all the information necessary to make an informed decision which suits your needs!
What is a smart thermostat?
Before we delve into the hive vs nest debate, let's start with the basics: what are smart thermostats? Basically, they are an energy-saving device that allows you to control your central heating and, thus, your home's temperature from just about anywhere. Using an app on your smart devices, you can easily monitor energy usage and adjust the temperature in each room of your house to keep everyone comfortable. 
Some smart thermostats also learn your habits and make automated adjustments based on when you're home and away, further boosting the energy efficiency of your home and allowing you to save money on energy bills.
Benefits of smart thermostats
There are a number of advantages to having a smart thermostat in your home. Not only do they increase the energy efficiency of your home, but they can also be used to create heating schedules and automated temperature changes for maximum convenience. Smart thermostats can also help detect problems with your central heating system quickly and notify you before expensive repairs are needed.
Nest vs Hive – the two best smart thermostats on the market?
The Hive and Google Nest's ubiquity on the smart thermostat market makes it forgivable to believe there aren't other smart thermostats out there. And whilst this isn't the case, there is a reason why they are two of the most popular and highly rated smart thermostats in 2023.
Both the Nest and Hive are leading the way in smart thermostat technology. Both offer a host of features that can take your home automation experience to the next level. But which one should you choose?
In our quest to find the best smart thermostat, let's start with a brief overview of both.
Hive Thermostat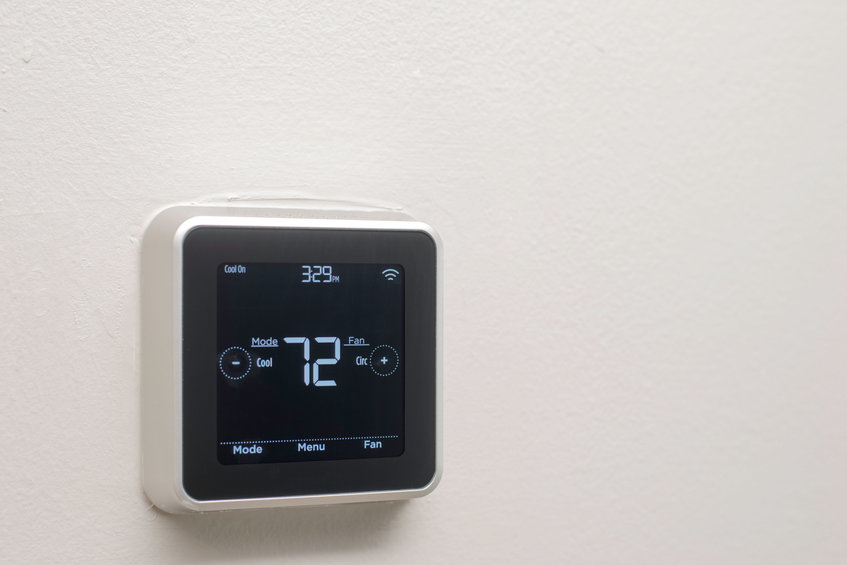 The Hive Smart Thermostat is one of the most popular thermostats on the market. It offers an intuitive design with a sleek and easy-to-use interface. The Hive app also allows for quick temperature control from anywhere in the world, giving you peace of mind that your house is at the perfect temperature when you arrive home. It also comes with a clever 'follow me' feature, which uses your phone's geolocation to personalise your heating settings when you're at home.
As of 2023 the Hive active heating thermostat is available in two options: the classic Hive Thermostat and the slightly more affordable Hive Mini. As the Hive classic is the most popular, this is the model we will be comparing in this post.
Nest Thermostat
The Google Nest Smart Thermostat is the other popular player in the smart thermostat market. It has a chic and modern design, with an easy-to-use app that allows for full control over your home's heating from anywhere in the world. The Nest also comes with some clever additional features such as their Energy History Report which can tell you how much energy your home has used over a certain period of time and their advanced algorithms which learn and adapt to your heating preferences.
The Nest also comes in two options: the original Nest Learning Thermostat and the Nest E – an even more affordable option. Again, we will be focusing on the original model here as this is by far the most popular.
Hive Vs Nest – comparing the two brands
Hive thermostats are designed and manufactured by Centrica PLC. Centrica are a huge name in international energy services, you may recognise them if you are a British Gas customer as they are BG's parent company. A product backed by this level of industry insight can be sure to include an array of useful, finely tuned energy monitoring and control features and maximum compatibility.
Nest thermostats, on the other hand, are made by Google (you might have heard of them) Google are one of the biggest names in consumer technology and are widely recognised for their innovation and design quality. It's no surprise then that the Nest Thermostat packs some of the most advanced features available on a smart thermostat, this includes a motion sensor, AI learning algorithms and, of course, remote temperature monitoring.
Criteria for comparison
There's a lot going on when it comes to both of these active heating thermostats and so when comparing smart thermostats, there needs to be several categories in which we will pit them against each other in.
Ease of installation
How easy are they to install in your home? This will take into account both new smart thermostat installation and replacing an old thermostat with a smart thermostat. We'll also explore whether or not this is a DIY job or something you'll need a professional heating engineer for.
Design
Does it look nice? Simple this one, really.
Ease of use
The technology may be complex, but it needs to be easy to use. Which one is the most user-friendly and intuitive will be up for debate here.
Features
Not just how many but how useful. A feature that no one ever uses might as well not exist. On this basis, we will look at which of the two smart thermostats provides users with real benefits, not just flashing lights and gimmicks.
Performance in saving money
When Beyonce once sang, "bills, bills, bills", she wasn't expressing her affection for ducks. No sir, she was referring to the scourge of human existence — paying for necessities. Maslow would be in tears if he could see the cost of warmth and hot water these days. We're all seeing our bills rise to staggering amounts, and so this metric will be used to see which smart thermostat returns the most pound to the pocket.
Compatibility
This goes for how well they work with smart devices as well as heating systems.
Price range
We'll also do a comparison on the all-important topic of price.
Reviews and reputations
While we can objectively measure certain metrics, sometimes it's best to take a step back and see what other people are saying. We'll look at both user reviews as well as industry reputations.
Product Warranty
When spending the kind of money that you are likely to be investing in a smart thermostat, it's important that it is backed up with some kind of guarantee or warranty. We'll take a look at both Nest and Hive's offerings on this front.
How easy is installation?
Hive installation
Typically speaking, Hive smart thermostats do not NEED to be installed by a professional, however, you will need to have some knowledge and experience of electrical wiring. The tricky part comes in installing the receiver to your boiler, as the wiring will need to comply with BS7671 to ensure it is safe.
Nest installation
It's a very similar case with the Nest installation; there will be some wiring required, particularly when it comes to installing the Nest Heat Link which is the part that connects to your boiler to then send the signal to the thermostat.
Verdict: Tie
There's no clear winner here. If you are competent and confident with wires and tinkering around near your boiler, then fitting a smart thermostat should be a relatively straightforward task, for everyone else — we'd recommend calling a local professional. It will be a small job for them and probably save you a lot of hassle in the long run.
Design
Hive Design
The Hive design is a stripped-back and minimalist approach to the smart thermostat. The most recent model incorporates a central dial on an LCD screen with a white casing. You can even have it sitting pretty atop a chrome stand if you wish.
Nest Design
The Nest thermostat is aesthetically pleasing and truly stands out among its competitors; Google has done an excellent job of making this look like something futuristic and exciting, yet still able to blend into any home. It has a stainless steel ring on the outside (you can pick the colour when you purchase), with a large LCD display that changes colour depending on the temperature of the room. It's simple yet very effective.
Verdict: Nest
Whilst design is largely a case of personal preference, it's hard not to be swayed by the aesthetics of the Nest; it looks sleek and modern, and totally minimalist.
How easy is it to use?
Is a Hive thermostat easy to use?
The Hive smart thermostat is incredibly easy to use, the interface is intuitive and it responds quickly to commands. The LCD screen and central dial also make it very simple to navigate your way around the settings. The app is also very straightforward, with no learning curve, even for those who aren't particularly tech-savvy.
Is a Nest thermostat easy to use?
The great thing about the Nest is its simplicity. With a touchscreen display and a single control dial, it's easy to use, and you won't have any trouble navigating your way around the settings. The app is also incredibly user-friendly.
Verdict: Tie
Both are super simple to use and are built with the customer in mind.

What are the main features?
Hive thermostat features
Voice control – Alex, Google Assistant and Siri compatible
App support for heating control, schedule setting and easy boosting
Smart notifications that let you know when you may have accidentally left the heating on.
Savings targets, usage insights and heating system issue detection (available through a subscription service called Heating Plus)
Nest thermostat features
Intelligent learning that monitors your usage and schedules and then adapts accordingly. After one week of use, it would have programmed itself.
App support – control your smart thermostat from anywhere in the world
Motion sensors and geo-locators to ensure maximum efficiency.
Energy history and home reports from within the app
Lights up when you enter the room for easy-glance information
Critical notifications if your pipes are at risk of freezing.
Voice control using Google Assistant
Verdict: Nest
The downside of the Hive is that a lot of the best and most useful features are locked behind a paid subscription, whereas the Nest gives you all of this from the get go.
That and the sheer amount of features available with Nest gives it a clear edge over Hive. From motion sensors to geo-locators, it provides an abundance of benefits that cover anything you may need from a thermostat. Plus, the Farsight feature saves having to check the temperature when you walk into the room. It's a great choice and very hard to beat.
Which will help you save money?
Hive cost savings
Both Hive and Nest boast some impressive cost-cutting features. The award-winning Hive claims to save the average household £311 a year on energy bills. When you combine this with the usage tracking features of the Heat Plus subscription, you could see an additional £26 a month going back in your pocket, not to be sniffed at!
Nest cost savings
With the Nest, it's a little harder to work out exactly how much it can save you. The number-crunching chaps at Google say "Since 2011, we estimate that it's saved over 39 billion kWh of energy in millions of homes worldwide." An astounding figure, no doubt, but a little too high-level when trying to drill down on individual annual savings for the consumer. The Nest Learning Thermostat creates a fully bespoke heating schedule for the user which significantly cuts down energy waste and heating bills. How much you will save, though, is largely user
Dependent.
Verdict: Hive
The Nest is probably an excellent choice for those who acknowledge they use their heating a bit too liberally and to the detriment of their bank account; the learning technology could create almost zero energy wastage which will change your heating habits and expenditure. However, the Hive is bold enough to go out there and chuck you some real-world, relatable cost-saving figures. We respect that.
Nest vs Hive: Which works best with most heating systems and smart devices?
Hive compatibility
The Hive Active Heating Thermostat works with the vast majority of combi boilers, electric boilers and conventional setups. The Hive app is also widely compatible with smart devices and their respective operating systems.
Nest compatibility
Similarly, the Nest thermostat has been designed so that it can be adopted by almost everyone. It will work on most gas and LPG boilers as well as some electric and oil boilers. To be 100% sure, you can use their handy compatibility checker. You're also unlikely to encounter any compatibility issues with the app either.
Verdict: Tie
Both Hive and Nest have done a great job of making their respective thermostats compatible with many different heating systems. With the ever-growing prevalence of smart home technology, both thermostats should remain compatible with your other devices too. Ultimately, it's a tie between both these market leaders.
Price
How much does a Hive thermostat cost?
The Hive Active Heating starter kit (includes thermostat and receiver) costs £179. The Heat Plus subscription package is an additional £3.99 a month or £39.90 for a full year.
How much does a Nest thermostat cost?
The Nest Learning Thermostat is a little pricier at £219. However, for this price, you get access to all of the features — no subscriptions here!
Verdict: Nest
The Hive is marginally cheaper than the Nest, but you do need to factor in the cost of the monthly subscription package. For both products, you are getting a top-quality thermostat that will save you money in the long run. That said, we're siding with the Nest Learning Thermostat as the more cost-effective option.
Reviews and Reputation
Hive reviews and reputation
The Heat Hive Active Heating Thermostat has won a number of awards for its design and technology, including the 'Best New Product' award at TechRadar. It also boasts a 4-star rating on Amazon with hundreds of satisfied customers airing their approval.
Nest reviews and reputation
The Nest Learning Thermostat is also held in high regard by tech critics, winning the 'Best of Innovation' award at CES. It enjoys an impressive 4.5-star rating on Amazon and boasts 2994 reviews — more than double those of the Hive!
Verdict: Tie
The Hive and Nest have both earned high praise for their designs, compatibility and energy savings potential. It's clear from the reviews that consumers are content with both options, so this really is a tie between two brilliant products. We recommend checking out the reviews yourself to make sure you choose the right product for your home.
Warranty
Hive warranty
The manufacturer's warranty covers the Hive thermostat and receiver for 12 months from purchase. If you have any problems, repairs or replacements will be provided free of charge during this time.
Nest warranty
The Nest Learning Thermostat is covered by a 2-year limited warranty, which includes repair or replacement if necessary.
Verdict: Hive
At two years, the Nest offers a slightly longer warranty than the Hive's one-year option. However, when it comes to getting replacements or repairs free of charge in the event of a problem, you're more likely to get this with the Hive. For this reason, we're siding with the Hive on this one.
So which is better, Google Nest or Hive?
No one likes a fence sitter, we know, we know, but in all honesty, it's difficult to pick a clear winner here. Both have heaps of useful technology, both look great, and both are sure to save you money on your bills. Like most things, there's a massive amount of personal preference that comes into play; some features will be more appealing to you than others, and they are evenly matched when it comes to tech specs.
Our advice? Consider your personal home heating habits and decide which you think will best suit your needs from the information provided. Additionally, you could always pick the brains of a local heating engineer who will be able to take a look at your current set-up and make recommendations based on that.
Hive vs Nest: a guide by Aquatek Plumbing
If you're still struggling to decide between Hive and Nest, why not call one of our experts at Aquatek Plumbing & Heating?
We are plumbing and heating specialists who have been serving customers in Essex, London and the South East for over 35 years. Our team of experts can answer any questions you may have about Hive and Nest thermostat installations as well as offer advice on a range of other plumbing and heating topics.
Don't hesitate to contact us today to find out more about our services and how we can help you save money on your heating bills.