The bathroom is one of the first rooms to show signs of wear and tear. As one of the most frequently used rooms in your home, it makes sense to consider new bathroom ideas 2022 to refresh and renovate your space.
Bathroom Trends and Ideas
Not sure where to start? Our experts at Aquatek have reached out to professional designers for the best 2022 bathroom trends.
Bigger is better
Interior designers advise moving away from crowded bathrooms cramped into a tiny space. Instead, they prefer to focus on creating big open layout areas, such as a full suite plan or elegant twin designs. Some of the more important pieces of advice when it comes to small bathroom ideas 2022 is that wet room designs can virtually push the walls and expand the usable space. In other words, size doesn't prevent you from aspiring to bigger designs.
Spa-like ambience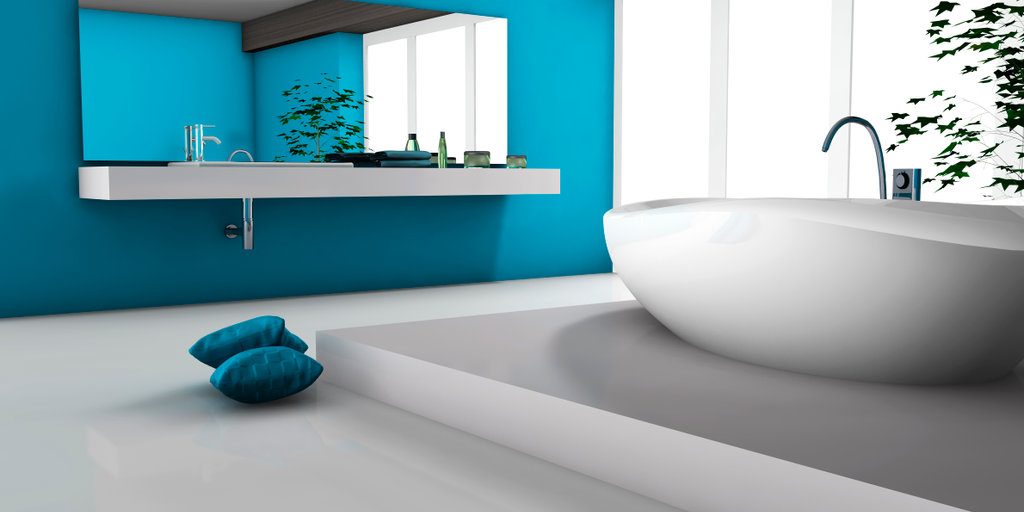 The bathroom can combine relaxation and functionality. Bathroom Designers focus on bringing the feel-good sensations of a spa into the bathroom. Enhanced facilities such as luxury jacuzzi tubs or large bathtubs bring a soothing sanctuary into the home. Even small bathroom trends 2022 mention spa-inspired features to create a peaceful and clutter-free space, ranging from mindful organisation hacks to minimalist countertops.
Bring the outdoor in
Bathroom trends 2022 UK answer a recurring need in British households: managing excess humidity. Adding plants to the decor can help tackle some of the ventilation challenges in small bathrooms. This biophilic approach serves as a stylish statement and a natural moisture-cancelling feature. Additionally, the presence of greenery instantly creates a soothing environment.
Paired with natural and organic materials and fibres, the outdoor-inspired decor will contribute to creating a calming bathroom. Homeowners can also add wood-effect elements such as tiles or flooring solutions to bring the connection to nature closer. Natural palettes and sleek organic designs are a marriage made in heaven for a cool interior style.
Vintage design and furniture
Designers also reckon that vintage styles such as cottagecore and nostalgic furniture will continue to feature heavily in the bathroom trends 2022. The addition of hand-picked second-hand elements into a custom decor can create an elegant and somehow timeless interior. The contrast between vintage pieces and the surrounding bathroom environment can add a unique cosy and homely feel to the space. Interior stylists also recommend the addition of vintage elements to soften modern and industrial bathroom layouts.
Luxury finish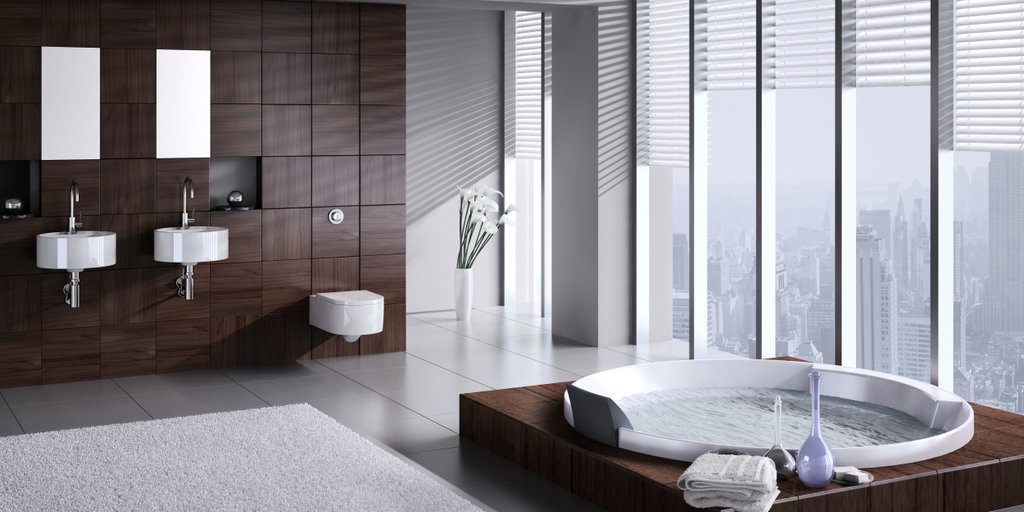 Keep the same bathroom but give it a luxury revamp. Stylish touches, such as gold-tone finishes or white marble panels, elevate the decor. Of all the bathroom ideas for 2022, luxury accents can effortlessly transform the room in a few hours. From switching the old tap for a gold-coloured model to adding a marble slab as a countertop or a wall panel, homeowners can refresh the interior without significant work.
Statement murals
Small bathroom ideas 2022 ban once and for all the use of neutral tones in the bathroom. The new decor calls for a statement, and that is where a new mural can add a unique focal point. A bold wallpaper can inject a playful pattern and create a fun and exciting room. We can safely wave goodbye to the traditional monochrome white bathroom and welcome scenic murals that bring a new dimension to the space. With the wow factor that comes from an accent wall, the statement mural also blurs out the room's contours. For homeowners with a small bathroom, it is the chance to dive into a tropical forest, a Japanese landscape, or any other statement wallpaper.
Eclectic textures
Minimalist bathroom trends are still popular. But more and more bathroom projects now choose to combine textures actively to add movement to the space. The bathroom doesn't need to be monochrome or mono-structure anymore. On the contrary, designers encourage homeowners to mix materials and textures to build an engaging and eye-catching scene.
Bathroom Colours 2022
What are the best bathroom colour trends in the UK for 2022? Interior stylists have listed some of the most popular tones to refresh the bathroom this year. Spoiler alert: Designers move away from minimalist whites and creams to inject a new palette into the most commonly overlooked room. It's time for the bathroom to become a show-stopping space in its own right.
Black bathrooms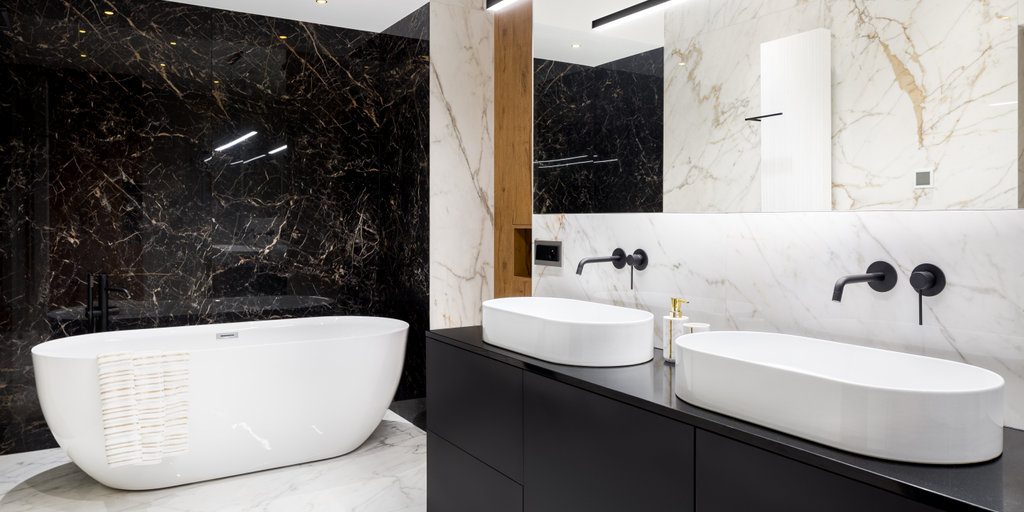 Black is a shade that makes an immediate statement, so it's not for the faint-hearted homeowners. Don't be nervous about using black in a small bathroom, as it can create a comforting and cocooning interior. Black walls are a fantastic backdrop for plants and metallic finishes.
Yet, if you are not ready for a full black decor, black light fixtures and finishes are a fantastic alternative to break through the monolithic bathroom decor.
Blue bathrooms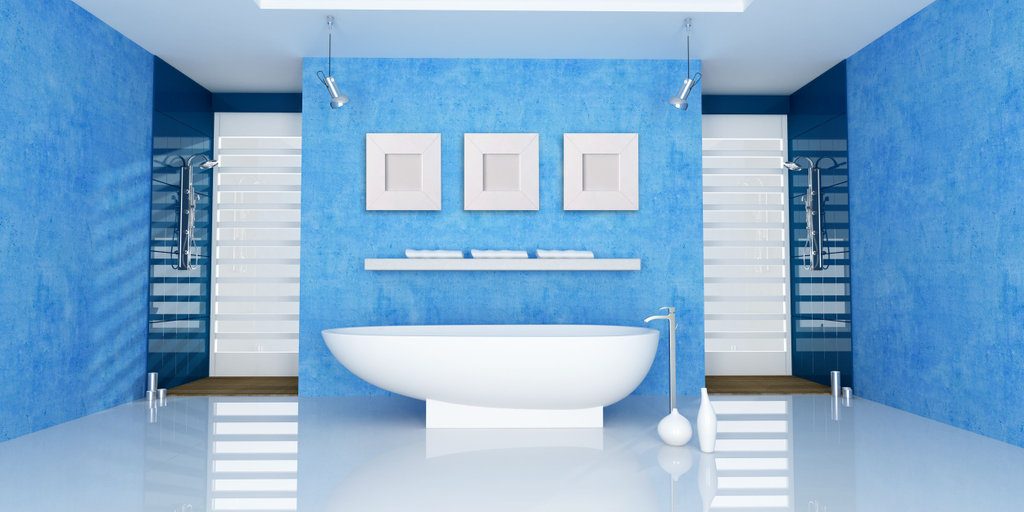 The Pantone's colour for 2022, Very Peri, a dynamic periwinkle blue with a violet undertone, hints that it is a year for blue decors. Blue in the bathroom adds a soothing and tranquil state. Dark blues bring a touch of luxury, especially as tiles and additional features. A pale blue sky blue is a light-reflecting surface that brightens a small and dark bathroom.
Green bathrooms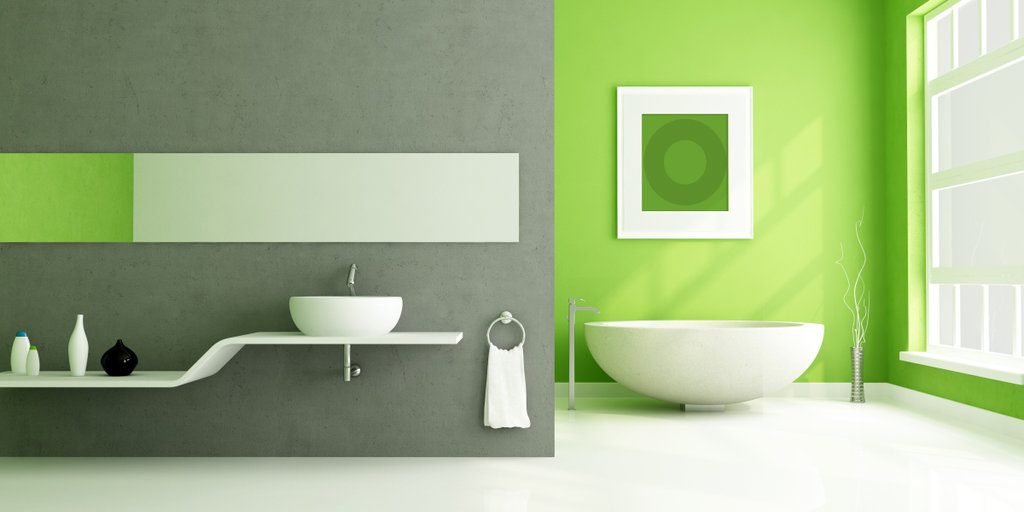 Green is growing in popularity for interior decor, so seeing this nature-inspired tone in the bathroom makes sense. Sage green, olive, moss, and eucalyptus bring the place to life and give it a lush look and feel.
Terracotta and coral
Warm earthy tones are the new neutrals. Terracotta and coral inject a serotonin boost to the interior, bringing natural richness and sophistication to the bathroom. It's one of the top bathroom colour trends in 2022 for Mediterranean decors.
Modern contrasts
Contrasting hues can bring the decor together and elevate the bathroom. Muted contrasts, such as grey and pink or blue and white, can deepen the palette in the bathroom and make it more interesting. Colours work well in bathrooms as they can enhance a space that typically struggles with areas of light and darkness.
Aquatek – Bathroom Design and Installation Experts
Bathroom trends 2022 UK focus on elevating the bathroom as a sophisticated, elegant, soothing, and bold room. By playing with colour palettes, features, and furniture, you can distract from the typical challenges of the bathroom, whether it is size, moisture, or light.
At Aquatek, we are experts in bathroom design and installation, working closely with top interior designers in the country. With 35 years of experience, we are confident we can help you fall back in love with your bathroom. Get in touch with our team or request a free quote today to find out how we can transform your bathroom.